Table of Contents
Join My Club
You want to join the BtVS Romantics? Cool. Just fill out this form and send it to me, and I'll get back to you with your member graphic, which will look like this, without the SAMPLE in the middle: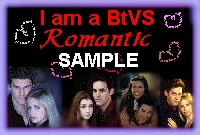 Just fill the form out. If you can't use forms, E-Mail the information to me.
AOL and WebTV members must E-Mail the information. The form does not work for them.
Name (as you want it to appear on the member list):